In 2021, 741 medical/scientific projects have been identified nationwide, according to an analysis by the consulting company IBC Focus, which monitors construction sites in Romania. Cumulatively, they occupy an area of 4.19 million square meters and the value of investments amounts to 21 billion lei. While this figure may seem high, it should be borne in mind that only a fraction of these works are on site and many are small-scale or represent repair or modernization works. Romania has secured €2.5 billion for health under the National Recovery and Resilience Plan (NRRP), but the former EU funds minister explained that our country has been unable to take on a clear list of facilities due to a lack of projects at sufficiently advanced stages.
In 2021, 741 medical/scientific projects have been identified at the national level, and at the top of the counties with the most such investments are Iasi county, with a total of 56 projects, Constanta (41 projects), and Timis (38 projects), according to the IBC Focus analysis.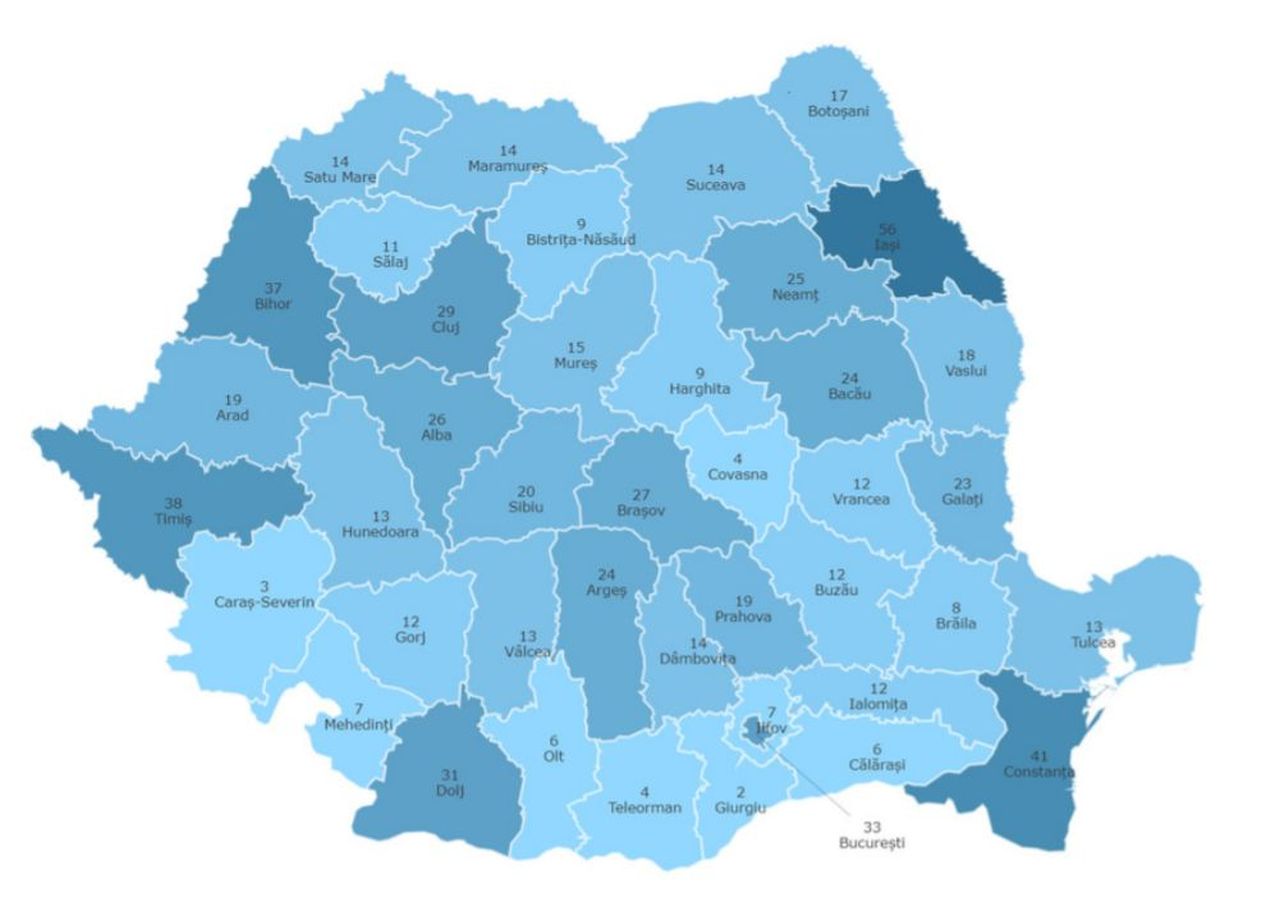 Source: IBC Focus
The 741 projects would need investments of 21 billion lei. The most valuable projects are in Ilfov county, followed by investments in Bucharest and Iasi.
According to the data analyzed, 93 clinics (medical/veterinary/dental), 51 sanatoriums and centers for the disabled, 107 care centers (hospices, old people's homes), and 380 hospitals, clinics, laboratories, and pharmacies were identified. (+22 Others)
69% of the projects analyzed are publicly funded. Specifically, 220 private, 499 public, and 22 public-private funded projects were identified.
In terms of stage of work, 5 projects were identified at the intention stage, 192 at the design stage, 122 at the permitting stage, 92 before execution, 204 under construction, 43 at the development stage, and 82 completed.
Of the total of 741 projects, less than half (335) are new construction, 244 are renovation works, 41 are repair works, 15 are modernization works and 106 are extension works.
At the request of Economedia.ro, IBC Focus representatives also told us what are the biggest projects in the pipeline: the building of a new hospital in Sibiu, a new building at the Călărași County Emergency Hospital, a 6-story maternity hospital and administrative building in Timiș, modernization, extension, and equipping of the outpatient department of the County Emergency Hospital in Vâlcea and a two-story multifunctional medical center (dentistry) in Bucharest.
"In 2020 compared to 2019, the most significant changes in the number of health units were determined by the increase of 242 units in the number of independent specialists medical practices, 134 units in the number of specialist outpatient clinics (including polyclinics), and integrated hospitals, 108 units in the number of independent dental practices, 44 units in the number of civil medical dental societies and 26 units in the number of civil specialists medical societies," says the IBC Focus report, which cites data from the National Institute of Statistics.
2.5 billion through the NRRP
According to Cristian Ghinea, former minister for European funds, Romania has secured €2.5 billion for health under the National Recovery and Resilience Plan (NRRP). The 3 regional hospitals remain to be financed from cohesion funds. But in the PNRR we have 25 hospital targets – smaller new hospitals, new wings on existing hospitals, or radical renovation of units, said the former minister, who was heard this week by MPs for a possible new government led by Dacian Ciolos (but which did not pass Parliament).
"We got into a kind of dilemma because there were no projects. Don't imagine that the country had a pipeline of new hospital projects or new wings! The solution we negotiated with the European Commission, which wants ready-made projects, is that we will go with a list of 49 objectives, among those proposed by county councils and town halls, and in the first six months of implementation, based on a methodology, choose 25 of these projects. By June 2022, based on objective criteria, we will select the 25. Objective criteria mean a correlation between needs and how advanced each of these projects is," explained the former minister.